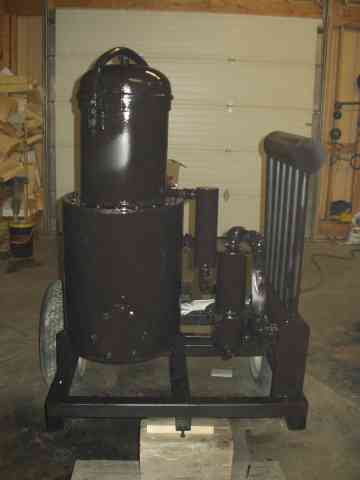 Now Available, wood fired generator systems from Arvid Olson's company, International Supply.
All new systems are based on our most current model.
Compact gasifier 39" x 15"
Removable hot plate restriction
New co-axial double pass air preheat
Replaceable nozzles
Monorator hopper with removable swirl liner
Easy open, low pressure puff up lid
No shake adjustable grate
High capacity cooler/condenser
New cooler/final filter with 100% wool blanker final filter media
Our small scale personal fuel refinery converts wood chips/wood waste into a gaseous fuel that can be used to power generators, pump water .
Basic systems start at $7990.00, This includes mounting to a steel skid. Custom mounting at an additional charge.
Allow 4 to 6 weeks for delivery.
Call us today at 705-647-0066 or e-mail to [email protected]