October 8, 2008 | Wired Magazine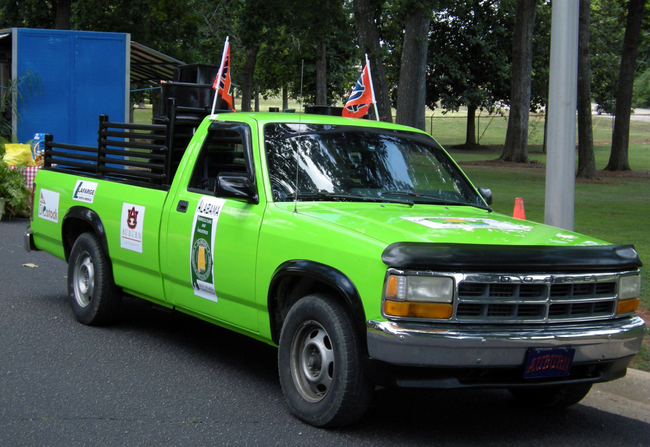 Wayne Keith is headed to Las Vegas in an old Dodge pickup that runs on, of all things, wood. He gets about 1.6 mpp (that's miles per pound) and reckons he needs about 1,000 pounds to get there. No problem. He's carrying a chainsaw and a list of lumberyards along the way.
Such are the provisions you need for Escape from Berkeley, a madcap alt-fuel race that mashes up Mad Max and Cannonball Run with a touch of the Darpa Challenge and Burning Man. If the rules are simple — no petroleum allowed, and fuel must be scavenged along the way — the challenge is anything but.
"The basic premise is build a vehicle out of junk, we'll give you the equivalent of one gallon of gas and you have to drive 600 miles to Las Vegas. Oh, and you can't buy any fuel along the way," says Jim Mason, the artist and inventor behind the race. "That's a pretty heavy stone to carry."
That isn't keeping the 10 teams lining up for this weekend's race from giving it a try in everything from a veggie-oil Lotus 7 to a steam-powered three-wheeler that looks like it rolled right out of the 19th century.
The race has drawn geeks and gearheads, artists and academics and even a rancher from Alabama, none of whom are waiting for General Motors or Toyota to lead us beyond oil. They've cobbled together an impressive fleet of street-legal and roadworthy cars, proving automakers aren't the only ones who can make autos. "I think energy will be our next hacking culture," Mason says. "If there's any goal here, it's to see how we can move energy from a commodity culture to a hacker culture."
Mason started hacking World War II-era Imbert wood gas technology three years ago. He's developed a DIY gasifier kit (he's sold 35 of them, at two grand a pop) and installed it in the 1989 Honda he's making the run to Vegas in. "A gasifier isn't a practical solution for urban transit," he concedes. "But it shows it can be done."
The solar trike and fully faired tandem bicycle with an ethanol motor making the run to Vegas aren't terribly practical either, but they show the ability to abandon oil is limited only by your imagination. Several other vehicles lining up on the starting grid Saturday burn veggie oil which is, relatively speaking, conventional.
The route takes them over California's highest mountain range and through its lowest valley as they wend their way through Yosemite and Death Valley national parks to Sin City. It's a challenging route, but that's the point. "We want to show it's a viable solution, and show you can travel vast distances on anything," says Jake Haskell, another race organizer. It's not a flat-out race but a rally with checkpoints that must be reached within a specific time frame. It's a safe bet some of the vehicles won't make it, but there are enough strong contenders to make things interesting.
Still, if there's a favorite to take the $5,000 grand price, it's Alabama rancher Keith Wayne. He's making the run in a 1987 Dodge Dakota pickup truck, which is the fourth truck he's converted to run on wood gas. He's already put 30,000 miles on it, so he knows it works. "Gasification is a little tricky to grasp, but once you understand it, it's pretty simple," he says. "It takes a lot of rigging and welding and doing and redoing. But it's a cheap ride, and it's carbon-neutral. The scientists at Auburn (University) tell me it's cleaner than an electric car."
Those scientists oughta know, because one of them — Dr. David Bransby — is Keith's teammate. They're making their way across the country in a pair of wood-gas pickups, spreading the gasification gospel before making the run to Vegas. "We've been in touch with Lowe's and Home Depot and other places that will have scrap, and we'll be getting wood from them along the way," Keith says. As for those stretches of road where there's nothing but scrub and brush, well, Keith's got a chain saw and the rules allow him one gallon of gas, so he figures he's got it covered.
"We're looking forward to it," he says. "You get a group of people together, give them rules like this and tell them to drive from Point A to Point B without gas, well, there might be something come out of it you've never seen before."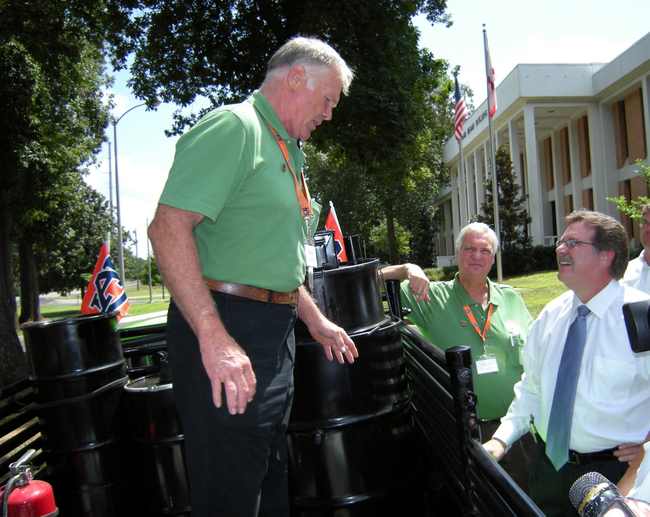 Wayne Keith and Dr. David Bransby with the wood gas Bio-Truck. Photo courtesy Auburn University.
Other entrants in Escape From Berkeley: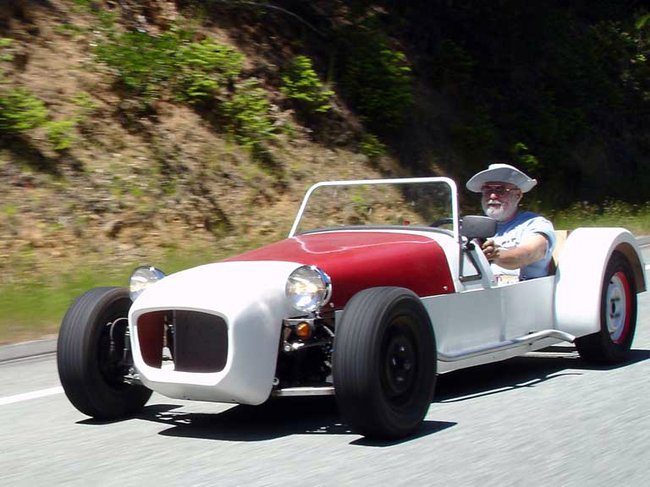 The Kinetic 7 is a Lotus 7 clone with a Kubota turbodiesel engine that runs on veggie oil. Photo courtesy of Kinetic Vehicles.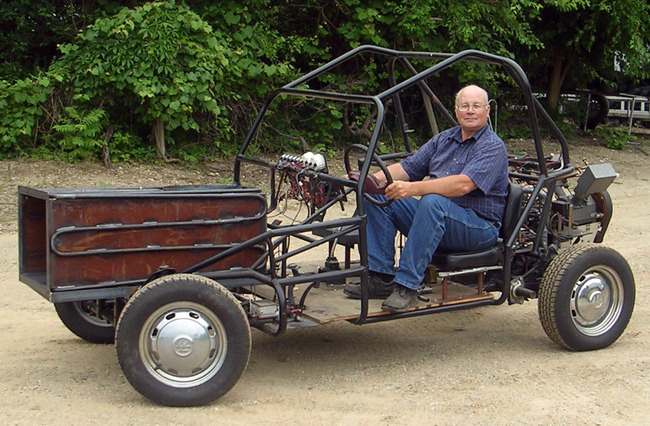 Tom Kimmel's VW-powered dune buggy runs on wood, cardboard, unprocessed veggie oil and even olive pits and walnut shells. Photo courtesy Escape from Berkeley.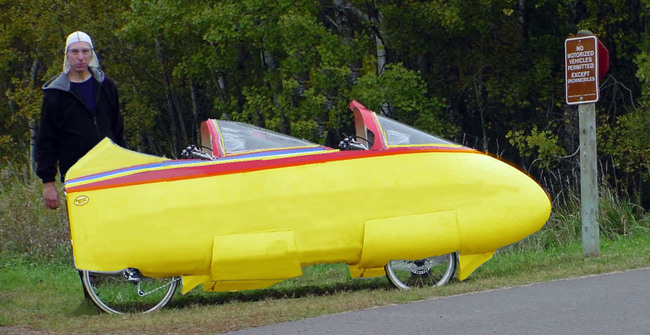 The Two Cats Screamer is a fully faired Rans Screamer tandem bike augmented by a 35 cc ethanol-burning engine. Photo courtesy Escape from Berkeley.