by Rebecca Congleton
October 30, 2012 | Fountain County Neighbor
Fountain County man's truck runs on 'wood gas'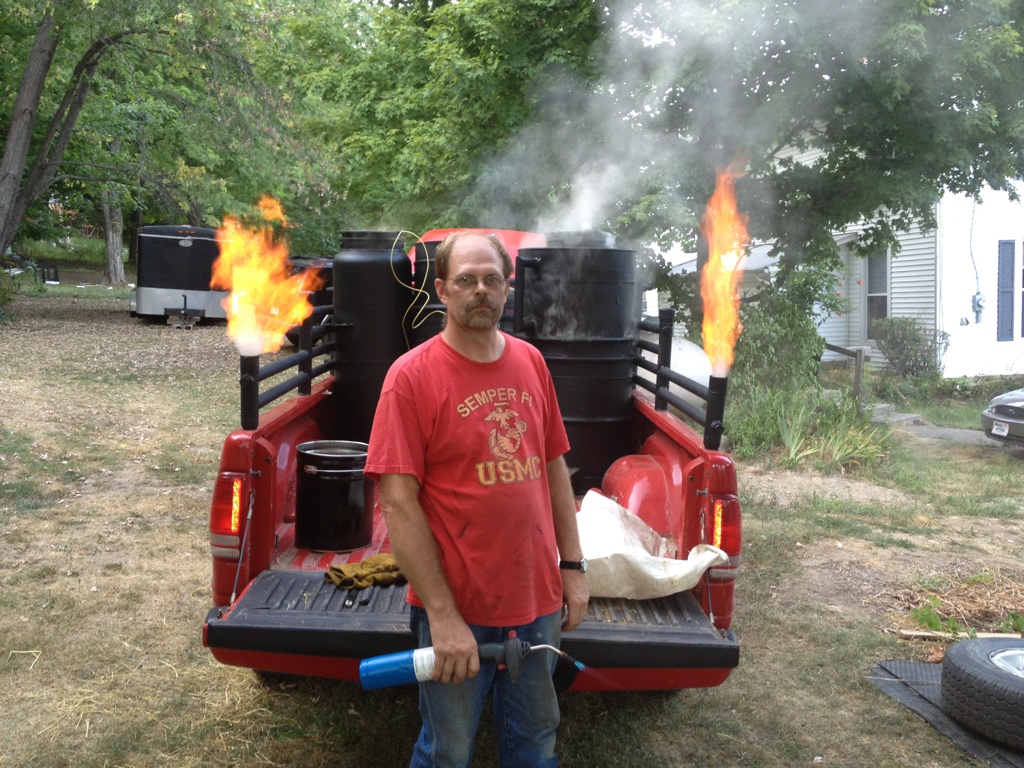 The science behind it is a bit complicated, but according to Richard Cooper, converting his 1998 Dodge Dakota to run on 'wood gas' was as simple as purchasing and following the design plans laid out by Alabama native Wayne Keith, whose website, driveonwood.com gives many resources and provides video tutorials on converting engines to run via "wood gasification".
Cooper, who became interested in the alternative fuel method a while ago, but only recently read about Keith's successes in a magazine, says he invested about $800 in materials to build the wood burning contraption that now sits permanently in the bed of his pickup truck.
"Wood gas has been around since World War II," said Cooper. "In Europe, the war was using all the gas. They needed a way to run their vehicles, When you burn wood in an oxygen deprived environment it creates hydrogen, methane ad carbon monoxide. You cool that down and run it through the motor, and that's what runs the motor."
The benefits are obvious. As Cooper pointed out, if you cut your own wood, your fuel costs can be significantly reduced. Cooper's truck can alternate between running conventional gasoline or the woodgas, depending on where his is going and what he is doing. There are obvious environmental advantages. Cooper said the emissions from wood gas aren't as harmful as gasoline emissions; and of course it reduces dependency on oil.
There are also some minor drawbacks. There is about a 45% power loss with wood gas, meaning Cooper's Dodge Dakota can reach speeds of 65 MPH or more, but it takes longer for the truck to get up to that speed. Depending on the size of the "gasifier" there is also the inconvenience of having to stop and add more wood. Cooper said his truck goes about a mile per 1 1/2 pounds of wood.
"I can go probably 55 miles without filling up. I've driven about 700 miles on it, since I converted it to wood," he said. "It has a switch so it can still run gasoline. It's a lot easier to start on gas, and then switch over to woodgas once the system gets warmed up."
The truck is more difficult to operate while it's running on wood gas, also. Cooper has to operate a manual choke system because running on wood gas bypasses the vehicle's factory computer system.
Although Richard's wife, Carletta, wasn't sure about the endeavor, at first, she is impressed with what her husband has been able to accomplish.
"I think it's great. After 25 years of marriage he simple amazes me more and more. And the other good thing is nobody could steal that truck, because you have to know how to run it," Carletta said.
Carletta continues to be amazed by her husband because there seems to be nothing Richard can't learn to do He has also purchased a quilting machine and is offering computerized quilting through the couple's small business startup "Busy Bee Quilting". The name was inspired by his other hobby, beekeeping. He has two newly established beehives, across the road from their rural Covington home.
For more information about wood gas power, visit driveonwood.com. For more info about Cooper's quilting business or his beehives, call 365-397-3468 or email them at buzzybeequilting AT yahoo DOT com.