by Jesse McKinley
October 12, 2008 | New York Times
BERKELEY, Calif. — It is a classic road rally, 600 miles from the liberal embrace of Berkeley to the anything-goes lights of Las Vegas. No speeding is allowed, or in some cases even possible. And if you stop to refuel, it had better be in someone's trash.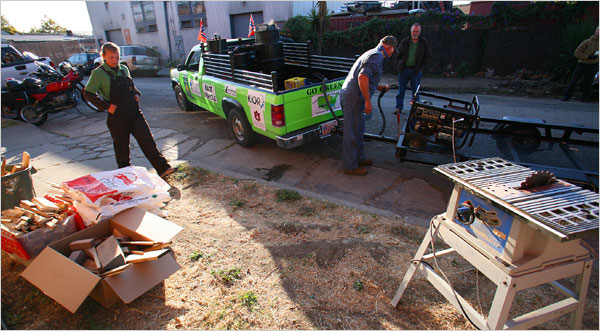 On Saturday, five teams began the Escape From Berkeley, maybe the world's most eco-friendly motor race, driving all manner of alternative-fuel-burning jalopies, roadsters, and even a frying oil-fueled Mercedes-Benz, with a single goal: to complete the race using no petroleum.
"Gentlemen, start your whatever they are," the M.C. shouted to begin the race, which offers the winner $5,000.
The final catch of the race is that participants — artists, environmentalists and even a cattle farmer from Alabama — have to find or scavenge their go-go juice, whether it is used vegetable oil from restaurants or twigs and sticks from the side of the road. All the vehicles, which had to be street legal, were allowed to start with a single gallon of whatever fuel they used.
"We're just going to hang out in front of Ace Hardware and beg," said Ben Wedlock, who was riding a two-man bicycle, augmented by a one-horsepower electric motor that runs on ethanol.
Not that building a nongas car is easy. The race originally had more than a dozen entrants, some of whom did not show. Several others scratched late, as their vehicles failed to fire up properly.
The race's route also presented some challenges, running from the relatively mild terrain of the Bay Area, across the Sierra Nevada via the Tioga Pass (elevation 9,943 feet) and through the deserts outside Las Vegas.
All of which is highly likely to make it more a matter of survival than of speed for some racers.
"Considering the Tioga Pass, it will be pretty much miraculous if we make it," said Shannon O'Hare, the designer of Kristie's Flyer, an elegant steam-powered vehicle on three wheels (two of which are wooden). "But I think it's more of an art piece than a competitor."
Indeed, Mr. O'Hare and several other participants are veterans of Burning Man, the art-for-art's-sake festival held every summer in the desert north of Reno, Nev. At an opening party for the race on Friday night, a giant fire-breathing snail — late of Burning Man and made of metal and wood — was in attendance.
Jim Mason, the founder of Shipyard Labs, the event's sponsor, said the race was meant to encourage creative thinking about alternative energy. "We want to transfer it from an engineering problem to art," Mr. Mason said.
Many of the cars were worked on at the Shipyard, a 20,000-square-foot open-air garage, where self-described "geeks and gearheads" work in shipping containers.
"We have more Ph.D.'s than Google," Mr. Mason said. "But here, they weld."
Not all of the racers are Bay Area cognoscenti. Wayne Keith, 59, is a cattleman from Springville, Ala., who decided five years ago that he wanted to be independent from gas.
"When gasoline hit $1.75, I bailed out," Mr. Keith said. "I'm a hostage to no one."
His adapted lime-green Dodge Dakota pickup burns wood in a pair of burners in the pickup bed and uses the gases created by the combustion — primarily hydrogen and carbon monoxide — to drive the engine. He said the ready availability of scrap wood on his farm made his energy expenses almost nil.
On Saturday, Mr. Keith's truck was also towing a table saw, in case he happened on any particularly large branches. "I don't know if it makes me good or guilty," he said. "But the wood's going to rot if I don't use it."
Mr. Keith said the truck's top speed is about 90 miles per hour, making it a favorite to win the race. Not so for Mr. Wedlock, 24, and his racing partner, Mike Gittelsohn, 54, who spent about $3,000 to build their recumbent bicycle, complete with an engine better suited for a weed whacker.
Neither man is much of a cyclist, they said. "A really strong human can produce about one-third of a horsepower," Mr. Wedlock said. "I'm probably less than a quarter."
The men's main concern was the wind, which had been gusting through Northern California for several days. The team, called Two Cats, had built a cover for their bike but were worried that it might be more of a sail than an aerodynamic sleeve.
"If we have crosswinds like we did today," Mr. Wedlock said, "it's going to be an issue."
The elements, including snow in the upper Sierras, were also quite likely to be an issue for the Prisoners of Petroleum team, which was driving an open-air and open-wheel two-seater.
Jack McCornack, part of the Prisoners team and the owner of Kinetic Vehicles, a maker of alternative cars in Cave Junction, Ore., said his roadster could go 72 m.p.h. — and get 70 miles to the gallon — using nothing but vegetable oil.
"It's extremely no-frills," Mr. McCornack said of his car, which has no windows or doors. "It's everything you always wanted in a sports car, and less."
Sure enough, there was snow in the pass on Sunday, and Mr. Wedlock and Mr. Gittelsohn had dropped out because of an engine problem, Mr. Mason said.
Mr. O'Hare's steam-powered carriage, which he had estimated would top out at 15 m.p.h., had been reduced to a ceremonial role, leaving three viable challengers in the race.
Mr. Mason said he suspected there might be a little more attrition before the race ends on Monday in Las Vegas. "It might just be one or two," he said. "But maybe they'll all make it."