by Jim Hart
September 23, 2011 | Ozarks Green Energy Development
Wayne Keith, a tinker from Alabama. Who is he and why is he important for such a time as this?
Thayer, MO - Keith, an unassuming farmer, who has worked in law-enforcement and as a tinker built his own sawmill, has been using wood to fuel his farm trucks and his family vehicle for the past six years. Keith estimates he has driven over 200,000 miles on wood. Keith claims he has never cut down a live tree to fuel his gasifier or heat his home.
The process called gasification was tested by the U.S. Army prior to World War II. Keith has tinkered with many of his own gasifiers and has proven their efficiency and importance in different ways.
In Atlanta, at the 2007 Southeast Diesel Collaborative Annual Partners meeting sponsored by the Environmental Protection Agency, Keith was invited as the keynote speaker and was presented with a plaque thanking him for his work in "Green Living and Green Driving".
In October 2008 Keith drove coast to coast and back again with Dr. David L. Bransby, a professor at Auburn University whose areas of interest are energy and forage crops. Driving on wood, they started in Alabama, drove to Charleston, South Carolina, advanced across the United States and reached San Francisco, California; they visited sponsors along the way and ultimately returned to Alabama. They drove a total of 7,388 miles on wood and only used gasoline for startup.
During the summer of 2010 Keith's gasifier was tested at Auburn University and was found to be 37% more efficient than a gasoline powered engine. The Atlanta-based, Southern Company (NYSE: SO), that owns several of the utility companies in the south, analyzed the wood fuel used in Keith's gasifier and found the BTU value to be higher than a gasoline fed engine. Keith can travel 231 miles on wood compared to 168 miles on an equivalent one million BTU measure of gasoline.
In June of 2011, in eastern Kansas, we met Wayne and his wife Lisa at a gathering of tinkers organized by Stuart Perkins. The group of innovators, motorheads and tinkers came from all over the country to discuss and share their own plans and American ingenuity that uses wood and other carbon based fuel products. However, all were there to meet the tinker from Alabama. Mother Earth News sent their representative, John Rockhold, to interview Keith.
Our host, Jason Burns, a sixth generation farmer spends over $250,000 a year to fuel his farm equipment which plows, fertilizes, seeds and harvests his 7,500 acre farm. Living close enough to the Show-Me-State border Burns needed to see Keith's gasifier.
Seeing is believing; Burns realized the potential fuel cost savings and the importance of using a carbon neutral gasifier on his farm where wood is wasting in dozer piles, ditches and along fence rows. Keith's gasification unit also produces biochar which can be returned to the soil for agricultural benefits. Keith drove to Kansas and home again, a 1,300 mile trip, using only wood as fuel. Everyone returned home with a renewed sense of excitement and energy to continue tinkering and innovating.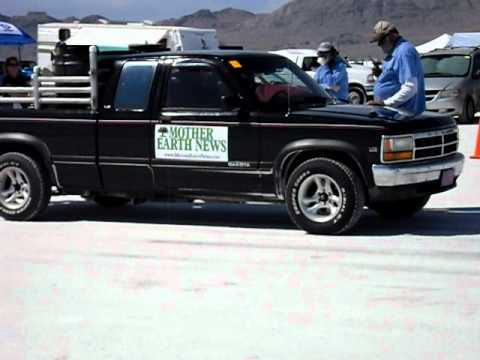 On September 9, 2011, with the sponsorship of Mother Earth News, Keith and his 13 year old son Tally, began another journey across the country in their '93 Dodge Dakota. Starting in the early morning the Keith's adventure had caused a buzz of chatter in the WoodGas groups. Arriving in Thayer, Missouri by lunchtime and after a few quick phone calls to interested individuals, the Keith's in their gasified truck held an impromptu showing at Hirsch Feed Store.
Once the hood was opened and the smell of burning wood was released to penetrate the air the '93 Dodge Dakota was surrounded. The locals, skeptical at first, questioned Keith. Word spread quickly as Keith having experience and impressive knowledge on the process of gasification answered their questions. Keith had once again inspired a group of people into independent thinking and American ingenuity.
For those reading and imagining having to drive a "red-neck put together" vehicle, Keith and Tally had set out on their new adventure to prove nay-sayers wrong. Where else could a motorhead prove his worth but in Utah on the Bonneville Salt Flats, a great salt desert, that is recognized as the greatest racing speedway in the world.
On September 14, 2011 we were privileged to witness Keith's attempt to break the previously claimed land speed record by a wood burning vehicle at the 25th Annual World of Speed sponsored by the Utah Salt Flats Racing Association. Due to the logistics of the Bonneville Speedway trip, Keith chose to drive his truck on gasoline, but easily switched to wood while on the salt flats. Most, if not all other drivers, transported their vehicles on trailers whereas Keith drove his truck from Alabama to the location. Keith had complied and passed all the rigorous inspections for safety and modifications required to be eligible to run.
Keith's gasified '93 Dodge Dakota, his family vehicle, broke the previous record in the first quarter mile of his first mile run. After his third run Keith's speed at the mile was 73.09830 MPH. Keith's truck could not achieve its top speed since the 130 Class Keith was competing in was limited to a one mile track. Given a longer track, the truck can achieve a top speed of 85-95 MPH due to hotter gasifier temperature and higher energy content woodgas. Having an incredibly tuned ear for his own engine Keith knew his two other qualifying runs would not be necessary; he had beat the claimed record in his first run and beat his own second run time with his third run. It was time to go home.
What did the tinker from Alabama have to say about his accomplishment?
"First let me say that I make no claims to having the fastest wood-burning vehicle. My claim is that we beat the team that made that claim. I thought it was important to erase the 47 MPH record from the books whether it was me or someone else. I think a higher record will be more attractive to anyone interested in gasification. Also, we drove 4,300 miles, only 100 miles was on wood. I would like to say thanks to the people who made it happen: Mike LaRosa, for being my adviser and contact man, thanks to John Rockhold and Mother Earth News for financing the trip and finally Dr. David Bransby for financing me through the years so that I could play and experiment."
Keith has proven his gasifier's efficiency, importance and usefulness at a time when fossil fuel is being used a million times faster than being created. Further, he has designed a versatile vehicle that is able to operate on wood or gasoline. Keith is currently working on a new gasifier.
Wayne Keith, a tinker from Alabama for such a time as this.
About OGED:
OGED is a Missouri nonprofit corporation founded in 2007 with the following expressed purposes: "to inform and educate the public about bio-energy issues and actively promote thermochemical processing of biomass to produce usable energy and biochar." The fundamental goal is to facilitate the development of an economically viable and environmentally friendly industry that will benefit communities throughout the Missouri Ozarks.